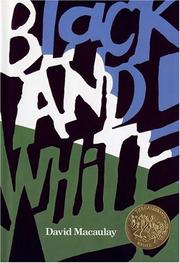 ISBN 10 : 03955 21513
ISBN 13 : 978 03955 21519
(Caldecott Winner- 1991)
There are four stories in this book, if you consider all of them are different. If you think they are related, there is only one story. David Macaulay has presented a ingenious story (or, stories) which are interconnected and sequential and also offers the readers a story puzzle.
Travel Between Stories
There are four columns in each page. The four stories progress simultaneously in each page in their column.
1) A boy is travelling in a train to reach his parents.
2) There are passengers waiting for a train in a railway station.
3)The parents of two kids, who return home from work act weirdly.
4) There is a thief, who is trying to steal cows.
As each story progresses, the stories sometimes intersect, otherwise move in their phase. Finally, it is the reader, who has the final key, in deciding how these stories are connected or not connected?
---
Publisher : HMH Books for Young Readers - First Ed.


Classification : Interactive (Interconnected stories), Funny


Age : Grade 3 and above
---
This is a brilliant way of storytelling, where the readers have to arrange the interlocking pieces. The author has done an incredible job, since the four plots look entirely different in atmosphere and setup. The plots leave us no clue of their interconnectivity in the starting of the book. (I read the book several times, to sum the things up.)
This Caldecott winner canvasses each story in a different type of illustration. When I loved the water color illustrations of the first story, my kids enjoyed the camouflage in the Holstein cows and the thief. (My preschooler can't understand much of the story, but enjoyed watching the pictures. Even for my second grader, this book is a little above the head at times.)
Due to the complex structure of stories, it hard for small kids to understand it. But, with word puns, picture detailing and interconnections, I can rightly say, this is not just a children's book, even grown-ups would love it.
---
Good Books cannot be confined to one single blog. That's why I keep them here too. Click and follow: