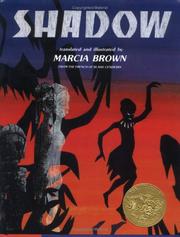 (Caldecott Winner-1983)
Follow the Shadow, that follows you

What is a shadow like? What would be its characteristics? Author Marcia Brown tried to bring answers to these questions, with the elegant sketches of this book.
The rich poem, (translation from a French poem, by Blaise Cendrars), talks about the ways how shadows travel through day and night and their lives. Portrayed as a person, the shadow moves around African lands, exhibiting an array of characters and changes its life at day and night.
Publisher: Atheneum



Classification : Poem



Age : Grades 5 and above
My Comment:
I thought I should talk about this book in two ways:
The nooks, the poem vividly describes. I wondered about the following lines.
1) The shadows look live and active in daytime, around us in noon,
spreads out in the evening and heavy at night.
2)No vulture or eagle can raise the shadow higher.(Yes, even they
soar high, their shadows are on ground.)
3)Shadow is the mother of all that crawls and squirms.(Shadow also
stretches out as sun comes out like the creepy crawlies).
Every verse in the poem, could be marveled, for their rich content.
The illustration, that brings life to the shadows. The way the shadows are distinguished in the images along with their different characteristics, clearly tells why this book bestowed a Caldecott medal.(I loved the mocking shadows, long shadows in the evening and the shadows of vulture and eagle especially.)
But in some pages, since the illustrations give an eerie and spooky mood, this book be better handled by a kid above 5th grade. (Though I tried reading this poem to my second grader, the concepts are above his head.) On the other hand, even grown-ups could love this poem. For a change, once follow the shadow that follows you.
---
Good Books cannot be confined to one single blog. That's why I keep them here too. Click and follow: