Caldecott Honor-1993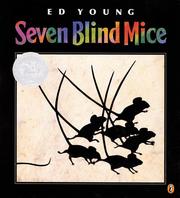 ISBN 10 : 03992 22618
Opinions differ from person to person. But how could seven blind mice decipher the same object as various things? Here is an Indian fable that establishes that incomplete knowledge could lead to false ideas.
A pillar + A snake + A spear + A cliff + A fan + A rope = ?
Seven blind mice got curious about the new strange thing near their pond. Each day, each mouse takes a turn and examine the new thing. But their opinion differs, since they examined the different parts of that new big thing. One says that it's a pillar, one says that it's a snake, other a spear and so on.
But what is it really? Only, the last mouse has the wisdom to inspect as a whole and sum up the results. And the moral is there to learn.
---
Publisher : Philomel Books - First Ed.

Classification : Fable, Moral (Wisdom comes from seeing the whole)

Age : Preschooler, Kindergartener, Grades 1 - 3
---
My Comment:
No wonder this book earned a Caldecott Honor. The illustrator and author, Ed Young, has created vibrant paper collage illustrations, only with a basic color palette. Though I have heard other variations of this story, this one is a winner with kids, with subtle and clear illustrations. The illustrations that bring out the similarities of a pillar and the leg, a snake and the trunk and so on, are class.
Though the moral of the story is bit complex for kids (Knowledge is seeing things as a whole), the narration simplifies it, understandable to the minds of small kids. In a long shot, this book can also be used to teach colors(the mice are named with different colors), days of week(each mouse inspect in each day of week), and ordinal numbers(used as First mouse, Second mouse and so on).
To sum up, this is a classic tale that comes with a moral, that stands beyond generations and holds true all the times.
---
Good Books cannot be confined to one single blog. That's why I keep them here too. Click and follow: