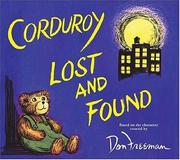 ISBN 10 : 06700 6100X
ISBN 13 : 978 06700 61006
(

Note

: This story is written by the author, B. G. Hennessy, based on the lovable character, Corduroy, created by Don Freeman.)
The Best Gift for a Best Friend
It is Lisa's birthday, tomorrow. Her best friend, Corduroy, the adorable bear, wants to give her a wonderful gift. As he walks alone out of the house in a early morning, he considers various gifts for his friend. Whether the impressive number panel in the lift would be perfect, or the big yellow round thing in the sky would be perfect?
As he walks along, he soon loses his way back home. But friendships and stories never end that way. After some hours of engaging experiences, Lisa finds Corduroy back. But how does she manage to find him? What was Corduroy doing still she comes for him?
Finally, does Corduroy manage to give a present for Lisa?
---
Story By : B.G. Hennessy



Illustrated By : Jody Wheeler



Publisher : Viking



Classification : Emotional (Friendship)



Age : Preschooler, Kindergartener
My Comment :
It is a huge responsibility to weave a story, based on a character, that is well established and loved by both adults and kids together. The author, B. G. Hennessy has handled this enormous task and crafted a lovely book.
As the story follows Corduroy in his quest for a gift, our hearts follow him, with the same fondness, that was created by Don Freeman earlier. Every unique characteristic of Corduroy in the earlier versions, curiosity, tenderness etc, occupy him in this book also. Also the friendship between Lisa and Corduroy is taken to the next level. Thus, the author has presented a book that both satisfies and expands the love of Corduroy fans.
The warmth of the story is further lingered by the illustrations (by Jody Wheeler), that brings Corduroy alive again. They snapshot every happy and lost moments of Lisa and Corduroy and complement the narration perfectly.
As a perfect sequel for "Corduroy" books, this book makes us to fall in love with this lovable bear once again.
---
Good Books cannot be confined to one single blog. That's why I keep them here too. Click and follow: