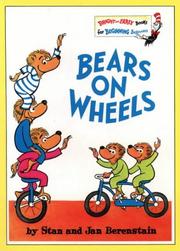 ISBN 10 : 03948 0967X
ISBN 13: 978 03498 09670
Count On Bears
A lot of kids would have loved Berenstain bears at some point of time in their childhood. You can count on these bears for enriching habits, language development etc. But in this book, you can really count with the bears (Yes, it is like one, two, three, four etc.).
A bear starts with cycling a unicycle (one wheel). Soon another one joins it. Now it is two bears on one wheel. The number of bears increase from two, three and four. Later, one bear comes in a bicycle (two wheels). The book extends the number of bears all the way to five, ten, twenty one and .... CRASH.
Publisher : Random Books For Young Readers



Classification : Educational (Number Counting,
Reading for beginners)



Age : Preschooler, Kindergartener
When my kids love several books with complex themes, they always seemed to get attracted to Berenstain Bear's simplistic theme and illustrations. And this book is no exception, with this colorful illustrations and simple (very simple, to say) texts.
Though this book is mentioned as a counting book, the very reason why I got this book is different. After my son (preschooler), tried reading several pages in "Hop on Pop" by Dr.Seuss, I was checking for similar books, which can induce his reading further. That's how I reached this book. (In comparison, this book is much simpler for reading, than "Hop on Pop").
The vocabulary in this book is very limited (bear, wheels and numbers names occur repeatedly). The text is less. (The "beginning readers don't have much patience, I believe). These reasons make this book a very good choice for budding readers. With lovely illustrations and simple text, this book made my preschooler's reading time a smooth, hearty time.
Good Books cannot be confined to one single blog. That's why I keep them here too. Click and follow: