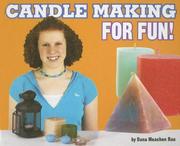 ISBN 10 : 07565 32760
ISBN 13 : 978 07565 32765
Which feeling would you get when thinking of candles? Godliness, Relaxation, Love, Celebration or Sadness? Almost every one of these feeling is expressed by lighting a candle. So it would be fitting for a kid to know about candles and candle making.
Make, Decorate & Illuminate
The book starts from the history of lights. It details how candles are used as a source of light and how they are made. As it progresses to the current age, it focuses on how candles are centered during festivals and celebration. In between, the book classifies the type of candles and demonstrates making of and other varieties of candles.
Publisher : Compass Point Books

Classification : Skill (Candle Making),
Informative (History, Types & Uses of Candles)

Age : Grades 3 and above (Adult Supervision needed)
My Comment:
If you are looking for extraordinary fun activity for a kid, who has grown out of drawing and other crafts, this book would be so helpful to you. The author has done a complete job of providing all the details related to candle making. Starting from the 'materials needed' list, safety information, and perfect photographs, the craft is well introduced and taught.
The narration is simple to follow. Even if you don't plan to make a candle right away, this book contains so much information for the nonfiction lovers (Just like we did, as we keep away the candle making part for later, because I felt my kids are very younger to follow that.)
With all being said, I felt the title is greatly misleading, as it involves only about candle making. But the book is way more informative than the crafty part. Apart from the title, if you cross the book cover, you will learn more about the expressive candles, from this skill based book.
---
Good Books cannot be confined to one single blog. That's why I keep them here too. Click and follow: