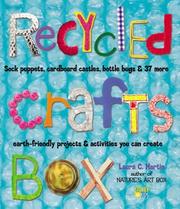 ISBN 10: 15801 75236
(2004 Edition)
Every year nearly 13000 pieces of paper (most of them packaging and junk mail) are thrown away, by each household, as trash. Do you think you cannot do anything about that? Maybe, you cannot start a revolution, but you can give this book to your kids.
Go Green; Go Clean
There are cottages made from milk and juice cartons, castle made from cardboard boxes, a cute bug made from plastic beverage bottle and so many other crafts, that would have otherwise ended as trash.
This book is divided into four categories of trash (paper, plastic, metal, fabric) and crafts using each of the material is presented with colorful photographs. This book is equally crafty and informative, as it details about:
Anatomy of landfill, covered in trash
A flowchart showing how paper is made and recycled
Various kinds of plastics
Publisher : Storey Kids



Classification : Skill (Art from Waste), Informative



Age : Grades 3 and above
My Comment:
First, it took a long time for me to cross the book cover itself. It is in a good way, as letters in the title are concocted with various recyclable materials. The organization of this book is efficient, as it talks about each kind of trash (paper, plastic, metal and fabric), lay outs their history and lists crafts based on them. The narration is simple. The flowcharts and photos used, clearly demonstrates the topics in hand.
The crafts in the book are of various varieties and any craft-obsessed kid could surely love it. Even if the crafts don't work for you, this book can be used for its valuable information and as a imagination starter.
And, yes, I know that making crafts out of trash is not going to end the problem of landfill. But it is sure a great start, especially in the hands of tomorrow's generation. Thus, this book is a tomorrow's answer for today's big problem.
---
Good Books cannot be confined to one single blog. That's why I keep them here too. Click and follow: