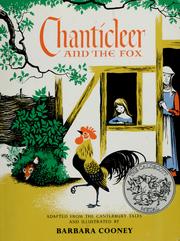 ISBN 10 : 06900 4318X
1982 Ed. - Crowell
Caldecott Winner - 1959
Why would a fox praise the song of a rooster? Well, anyone can see the fox is trying to flatter the rooster. But, Chanticleer, the proud, boasting rooster believes the fox and puts himself in trouble.
Don't fall flat for flattery
Chanticleer is a proud rooster, living in the yard of a poor widow, with his seven hens. One night, he has a nightmare about a beast. But, with the advice of his favorite hen(!) Madam Partlet, he neglects the dream. The same day, he meets a fox in the yard, who praises him for his singing. The fox also gives a tip to Chanticleer, to sing with his eyes closed, stretching his long neck and standing on tip-toes.
The proud rooster does exactly as the fox said and the fox grabs Chanticleer by his neck. But, Chanticleer still has time for one last plan to save himself from the beast. And, what is that plan?
---

Adapted from : Geoffrey Chaucer's 'The Canterbury Tales' (The Nun's Priest's Tale)

Illustrated By : Barbara Cooney

Publisher : Crowell - First Ed.

Classification : Fable, Moral (Boasting, Flattery)

Age : Preschooler, Kindergartener, Grade 1 - 3
---

My Comment :
This is a good book to give a peek of medieval life styles to the kids. The illustrations and narration transcends the readers to the medieval times. The story is straightforward with a moral for boasting and flattery.
The illustrations of this book are very special. (Of course, it is an Caldecott winning book!). The illustrations express a lot of emotions and they change tones, depending on the characters. The black and orange tones of the sooty kitchen of the widow, the black tone of the cunning fox, the colorful tones of the rooster and his seven hens are classic examples, where the illustrations convey the underlying emotions.
The language of the book is another rich experience. The vocabulary used is of high literary standards (scanty, debonair, prattle). Due to the same reason, sometimes my kids lost patience while reading this story. But they managed to enjoy the story as a whole and the pictures.
I believe this book can be used in classrooms for identifying similes used (The rooster's comb turreted like castle wall and its bill shone like jet). To sum up, though kids need some patience, this book will utter a classic reading experience.
---
Good Books cannot be confined to one single blog. That's why I keep them here too. Click and follow: