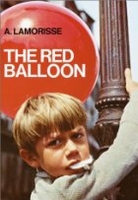 ISBN 10: 03850 03439
(1967 Edition)
This is a tie-in book for the short movie "The Red Balloon" directed by Albert Lamorisse, enacted by Pascal Lamorisse. The black-and-white and color photographs in this book are taken at the time of the filming

of the movie.
A Friend Indeed
There are no counts of the broken or fly-away balloons in our life. But Pascal is lucky to have a balloon, that follows him literally wherever he goes. It looks like his balloon friend has a mind of its own.
Pascal is a lonely child. He don't have siblings and not allowed to have pets. One day, Pascal sees a stranded balloon tied to a lamp post. Upon freeing it, he takes the balloon with him. It is not going to be easy to live a life with a balloon. He cannot ride the bus with balloon, reaches school late, gets the hostility of a boys group, who thinks that it is a magic balloon.

With all this around, the balloon is following Pascal, without, him even taking the strings and their friendship deepens. Alas, finally, the hostile boys snatch the balloon from him. What happened to the balloon really? And, what is all that colors in the sky?
---
Publisher : DoubleDay Books for Young Readers

Classification : Emotional, Photo based

Age : Preschooler, Kindergartener, Grade 1 - 3
---
My comment:
I definitely don't know what took me so long, to introduce this wonderful book to my kids, which I enjoyed years before, as a movie. But I am glad I did it last week and it turned out to be a delightful reading time for all of us.

The title and cover image itself are enough to attract my kids to this book(Of course, which kid don't like balloons). Another unique aspect of this book is the charming photographs of the story, that fills every page of this book. Being photographs of actual film shoot, they are bubbling with life and energy. Also, they bring alive the part of 1960's Paris, which is no more.

The navigation of the story is linear and fills us with diversified emotions. There is an array of emotions in this short story including friendship, loneliness, mischief, grief etc, which makes the story, an everlasting memory for its readers.

Forget your kid, this book can change you into a curious child, wandering with a red balloon in hand.
---
Good Books cannot be confined to one single blog. That's why I keep them here too. Click and follow: