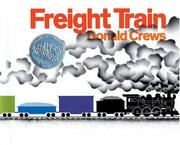 ISBN 10 : 068880165X
Young or old, trains never miss to attract any person of any age. Here is a classic train, that attracts children for several decades.
Journey of a freight train
Meet this freight train on its journey. Count its colorful boxes, a Red caboose, an Orange tank car, a Yellow hopper and so on. Watch it as it moves through the tunnels, crossing trestles. Follow it as it moves through day and night. Cherish its memory after it is finally gone, leaving its smoke behind.
From the time, we hear the sound, till the time, we see its smoke, this train is a perfect delight.
---
Publisher : Greenwillow Books



Classification : Informative (Parts of Train)
Educational (Colors)



Age : toddler, Preschooler
My Comment:
Is there a kid in this whole world, who is not excited to see trains?( Even I consider train journeys as something special, than any other modes of transport). This book is sure to give the same excitement, as watching a freight train passing.
The illustrations takes the readers along the freight train's path. The day and night differentiation and the way the train emerges in the different lighting make this book a most memorable picture book. Just like the smoke left by the train in the last page, the illustrations stand for a long time after the book is read. The text in this book is very less, as the pictures do all the talking. Even a kid, who cannot read, can see and understand this book. Also, it introduces basic colors(Each box of the train is in different colors).
Read this book with your kid for a delightful memory of a train journey.
---
Good Books cannot be confined to one single blog. That's why I keep them here too. Click and follow: