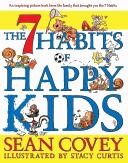 ISBN 10 : 1416957768
ISBN 13: 9781416957768
Utilize your time. Work hard. Save your money. I know, no kid would lend an ear to this kind of advice. But what could we do? Maybe, use this book next time.
I wish advising is always this fun and easy
The seven stories in this book branch about seven kids in the '7 Oaks' to emphasize the seven life morals. One kid gets bored. One wants to buy a toy but has no money. One has to study for test, instead he plays. All the seven kids has problems that a typical normal kid can face. Each of the seven morals sets the record straight for each kid.
---
Illustrator : Stacy Curtis
Publisher : Simon & Schuster Books For Young Readers
Classification : Moral, Emotional
Age : Grades 1- 5
My Comment:

Which kid would hear a lecture about responsibility, teamwork, respect etc? But they would love to read this book again and again. The stories are in such a capturing way, and a grade schooler can easily decipher the morals from them. The incidents in the story are simple and practical, and the way how the kids resolve them are brilliant. The illustrations provide additional support.


To put it in a nutshell, simply I would persuade every parent, I would meet, to read this book to their kids. The parents corner provides extra pointers for parents to start a good discussion with the kids. In total, this book is a good story teller for kids and an efficient discussion starter for parents, all in one.
---
Good Books cannot be confined to one single blog. That's why I keep them here too. Click and follow: