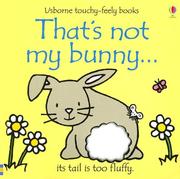 ISBN 10 : 0794509576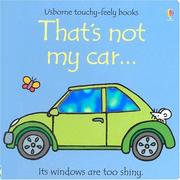 ISBN 10 : 0794506364
Babies explore their environment by seeing and touching. And, that's why a book with touch sensin can be a great material for their growing brain.
That's what a baby needs
Touchy Feely series of books works best with babies and toddlers. Each book centers about an animal or a vehicle and describes its features. For example, the kitten book goes like this.
"That's not my kitten, it's ears are too soft."
There is a patch of fabric in the kitten's ear, which the child can touch and feel the softness. Every page goes like this, describing fuzzy tongue, smooth nose etc. Some books in this series involves a theme based on farms and even feature flaps for secret surprises.
---
Authors : Fiona Watt, Phil Coxbee Rox

Illustrator : Stephen CartWright, Rachel Wells

Publisher : Usborne Publications

Published Year : Varies

Classification : Interactive

Age : Baby, Toddler
My Comment: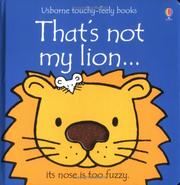 ISBN 10 : 0746044801
This is a wonderful way to introduce textures to a baby and a toddler. With the smooth illustrations and feel to touch textures, these books can grab the attention of any kid. (Yes, I admit it, I too love to touch and feel the textures in this book.)
The flap books double the excitement and works best with toddlers. In total, these books mark the beginning of a book lover's future.
---
Good Books cannot be confined to one single blog. That's why I keep them here too. Click and follow: