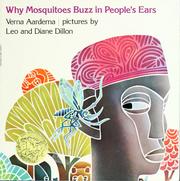 ISBN 10 : 0803760892
(Caldecott Winner - 1976)
Have you ever wondered why mosquitoes buzz in people's ears? Maybe, this story can help with an answer.
A charming tale about annoying mosquitoes
It was an endless night in a forest, as the owl (Oh, it's the owl's responsibility) did not wake up the sun. She slipped from her duty. as she was moaning over the loss of one of her owlets. But how did it happen?
It all started with a mosquito talking nonsense to an iguana. The fear of iguana (created by mosquito) soon becomes a chain reaction that affects various animals in the forest. finally leading to owlet's death. And till date, the poor mosquito is clarifying his guilt by buzzing in people's ears.
Illustrator : Leo and Diane Dillon
Publisher : Dial Books for Young Readers
Classification : Folktale (West African)
Age : Preschooler, Kindergartener, Grades 1 - 3
My Comments:
There is no doubt that any child would love this adorable West African tale, told in a repetitive poetic way.( I loved the way my kids joined me in this poetic part, as the lines are repeating). In my view, I can see many layers of techniques in this book.
The story happens as a chain reaction, with the mosquito starting it. While resolving the case, the story moves in backward (reversal of events), until finally the king (lion) finds the initial culprit, the mosquito.
The way the story easily handles the cause and effect theory.
The illustrations that differentiate the night and day settings and the way animals emerge in each background. The pink bird following the story in each page is an additional noteworthy feature(Of course, this book is a Caldecott winner).
This story revolves around various emotions like sadness, guilt, annoyance, fear, anger and the illustrations exhibit every emotion in a precise way.
The descriptive sounds like
wasawasu, wasawasu of snake
krik, krik, of rabbit
make the narration flowing and lovely. The final 'KPAO' is a blast.
---
Good Books cannot be confined to one single blog. That's why I keep them here too. Click and follow: