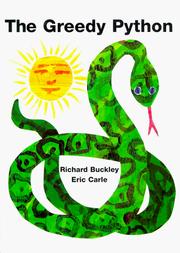 ISBN 10 : 0887080014
Too much of anything is good for nothing
Overeating has never been a good thing. And that's exactly what happened to this python. He is very long and strong. Also, he is very greedy, especially when it comes to eating.
One day, he starts eating a mouse, then a frog and a bat. This list goes long with a fish, a bird, a porcupine and so many other animals ending with a giant elephant. Soon he feels sick and he coughs back every animal, he has eaten.
Being a greedy python, he has never learnt his lesson and started eating his own tail and OOPS......?
Illustrator : Eric Carle


Publisher : Picture Book USA - First Ed.


Classification : Moral, Emotional (Greedy)


Age : Preschooler, Kindergartener, Grades 1- 3
This book comes from the rich combination of Eric Carle and Richard Buckley (I cannot count how many times I have read "The Foolish Tortoise" to my kids, another book from the same author and illustrator combination).
The animal illustrations by Eric Carle are always vibrant and could catch the eyes and minds of kids (including babies and toddlers). This book gives me another opportunity to tell the same about the great illustrator.
The narration of Richard Buckley combines mockery and rhyming, with a perfect moral. In my view, the moral works in two ways:
My preschooler son understands it in a simple way; 'If you eat with greed, you will destroy yourself'.

To my second grader, I explained this analogy; 'If you become greedy about anything (money, fame etc.), it would eventually destroy you' (A bigger moral for a bigger boy).
Also, the narration of the author is direct and precise to make it understandable to even smaller kids. To sum up, this python would make a good reading time, filled with fun and moral.
Note : This book fits toddlers also. But since the concept of a python eating himself might be heavy for that age group, I didn't mention 'toddlers' in the age group of this book.